Get started building your online bookstore today.
Our hosted ecommerce solution is tailored to fit the needs of used and antiquarian booksellers.
Booksellers with over 200,000 books will be charged $25 for each additional 50,000 books.
Online store features
Book Uploads
Image Uploads
Featured Items
New Arrivals
Book Categories
Content Editor
Online & PDF Catalogs
Events & Book Fairs
Carousel
Want Notifications
New Arrival Notifications
Data Downloads
Customer Accounts
Secure Shopping Cart
Order Reports
Customer Reports
Cart Reminders
Site Discounts
Coupons
Shipping Rates
Gift Wrapping
Sales Tax
Vacation Message
Marketplace Exports
Bibliopolis hosting plans include all online store features listed above, ample disk space & bandwidth, hosted email, SSL certificate, and our top-notch technical support. There are no hidden fees. We give you all the expertise and tools you need to develop and maintain a robust, up-to-date and successful online store.
Website design services for booksellers
Bibliopolis offers affordable template design as well as custom design services for booksellers. For over 20 years, we have worked with clients in the used and antiquarian book trade. Our professional team will assist you personally throughout the entire process from start to finish, and we offer everything you need to create a consistent and professional online presence.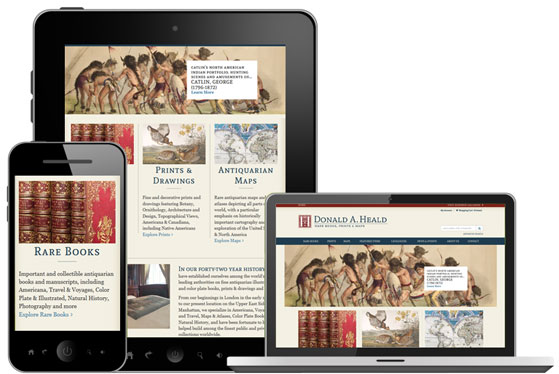 Setup & Design Costs
INCLUDES
Installation & setup of online store and all features
Setup & configuration of book data*
Training on all website administrative tools
Help with setting up email accounts
Help with domain registration and transfers
* including BookHound, UIEE, HomeBase, BookTrakker, and most delimited file formats
INCLUDES SETUPPLUS
Template design
Home page carousel
Custom fonts
1 round of feedback
INCLUDES OCTAVOPLUS
Custom design with up to 2 concepts
Home page design
Search Results design
Book Detail page design
Up to 2 rounds of feedback
Access to custom feature development
INCLUDES QUARTOPLUS
Premium design process with up to 3 concepts
Up to 3 additional pages for design
Up to 3 rounds of feedback
Access to custom feature development and designer