Inventory management software for booksellers.
Easily manage all customers, inventory, and invoices.
BookHound 8 is a full-featured database application built to handle most day-to-day bookselling operations. For more than 15 years, BookHound has been a leader among inventory management systems for independent bookstores and booksellers.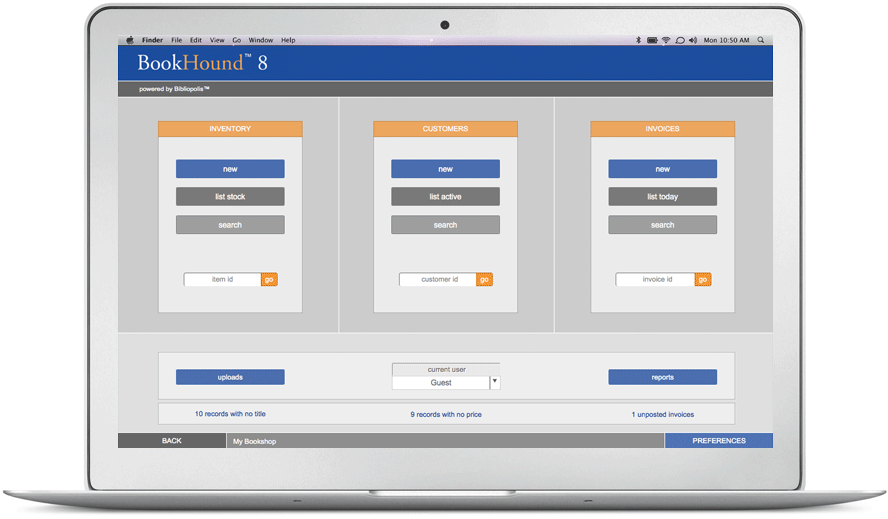 System Requirements: Mac OS 10.10 or higher. Windows 7 or higher.
Included with purchase of BookHound 8 is phone support of up to 15 minutes per incident for the first month. Additional support, if needed, will be billed per incident, if annual support is not purchased.
Registered users of BookHound 6 or 7ce can upgrade for only $265 US.
Without an annual support package, emergency support is available for versions 6 and up. The cost is $60 US for 30 minutes and includes phone, email and remote login assistance. Additional time will be billed at $120 / hr.
An annual support package is available for versions 6 and up. The cost is $275 US for one (1) calendar year and includes phone, email and remote login assistance.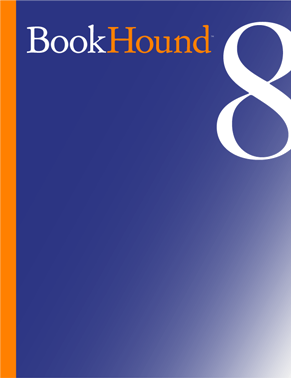 Frequently Asked Questions
Is technical support included with my BookHound 8 License?

No, your purchase does not include technical support beyond the first 30 days of use. Per incident emergency support is available at $90 for the first half hour and an annual support package is available for $275 per year.
Are there recurring charges to operate BookHound 8?

No, your paid passcode will permanently unlock your BookHound allowing unlimited use. The price paid is a one-time license fee and includes the first 30 days of technical support. Further support beyond 30 days can be purchased separately.
Can I run BookHound 8 on more than one computer?

BookHound 8 requires no extra software to run on one computer, however, to network BookHound (simultaneous use on more than one computer), you will need to purchase a FileMaker Pro 14 license for each computer on the network. Visit www.filemaker.com to purchase FileMaker Pro 14.
Can BookHound retrieve bibliographic data simply by entering an isbn number?

No, BookHound 8 does not have an automatic data-entry system based on isbn number.
Does BookHound automatically send inventory to the various online listing services?

No. However, one click will create an inventory file suitable for upload to most listing services (a separate file is created just for Amazon.com Pro Merchant™ accounts). We can automate uploading to your various marketplaces if you are a website client. Read about Marketplace Exports on our website features page.
On which Macintosh operating systems will BookHound 6 and BookHound 7ce still run?

BookHound 6 is compatible with Macintosh operations systems up to 10.6.8. BookHound 7ce is compatible with systems up to 10.7.5.
I have BookHound 6 for Windows. Do I need to upgrade?

If you are running BookHound 6 on Windows XP/ Vista/7, and are not experiencing any problems, you do not need to upgrade. If you upgrade to a later Windows we cannot support BookHound 6, although it may operate.
How do I upgrade from an earlier version of BookHound (5, 6, or 7ce) to BookHound 8?

We will transfer all your data from a previous version of BookHound to BookHound 8 for a fee. This conversion process includes sales, customers, catalogs, and consignments, and any other user-defined data such as preferences and customized drop-down menus. We will insure that your transition is quick and pain-free but costs vary depending on your specific data needs so be sure to contact us early to discuss your options.
Download a free trial version of BookHound 8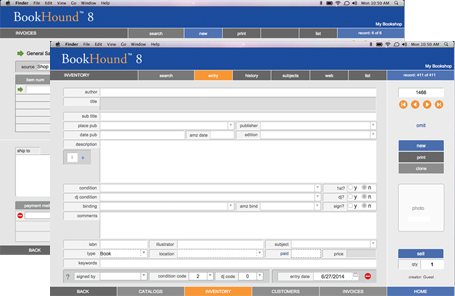 Get a fully functional version of BookHound 8 now. Then test drive the software and learn how easy it is to manage your customers, inventory, and invoices – free for 30 days.